Making music sound great since 2009
We started Stockholm Mastering in 2009 with one ambition – delivering great sounding masters of the highest quality.
Sofia von Hage
Sofia begun her mastering career in 2006. With a highly musical ear and an unrivaled attention for detail, she will take your music to perfection.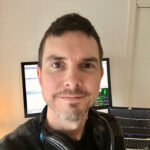 Thomas Eberger
Thomas has been mastering records for more than 20 years. Throw anything at him, and you'll get a great sounding record in return.